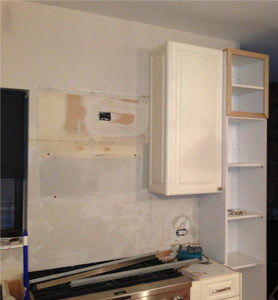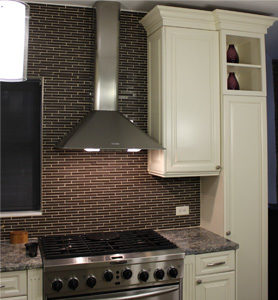 A few months ago I got a call from a potential client. They took a truly creative approach to buying and installing a new kitchen for their north side condominium. This couple bought an entire kitchen, including the granite and appliances from a house in Winnetka that was being remodeled. When I arrived at their house to talk to them, their original kitchen had been removed and their kitchen and living room were filled with cabinets and appliances. We quickly agreed to work together and the real fun began.

The salvage company that sold them the kitchen assured them that the most important parts of the kitchen; the refrigerator, sink and dishwasher would all fit in the existing wall space. As soon as I took measurements, I realized they wouldn't. So we removed a wall to give ourselves an extra eight inches of wall space for cabinets and appliances.

We started with the base cabinets and appliances because those had to fit in a specific way. There were way more upper cabinets than we could ever use, so we waited to figure out what to use and where to put them until after everything was installed on the floor.

The walls and floors of this building were completely cockeyed. The ceiling height varied in a nine foot span by three inches. Notice that the crown molding does not go to the ceiling.


This approach is not for everyone. My clients took the opposite approach of most people. They bought everything before they even knew whether it was going to work. They ripped out their whole kitchen and lived without one for a few weeks. They were willing to be creative and flexible, and to figure out with me how to make the space a success.