Palatine, IL Bathroom Remodeling
Renovate your bathroom today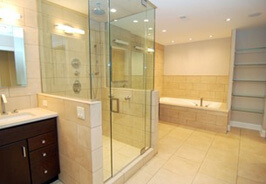 Your bathroom is the most private, intimate space in your home and it should reflect your lifestyle.
Whatever your budget, and whatever the size of the bathroom, we will work with you to make sure that it changes into a space that will delight you. It's where you begin and end your day; you should have an environment that you enjoy.
We have designed hundreds of bathrooms as real estate developers and designers, and know how to optimize your space and your money.
Bathroom design is all about making the best use of a relatively small space, and choosing the appliances and materials that create your perfect environment.
For a small space, bathrooms require a ridiculous number of choices; tile for the walls, tile for the floor, bath faucets, whirlpool or air tub, toilet, medicine cabinets, vanity design, mirrors, glass for the tub or shower enclosure, countertop material, paint, and bath hardware. In addition to making selections that reflect the functionality you want, everything has to work and look good together.
Because we have design, development, and construction expertise, we work with you to help you create your perfect bathroom.
If you have lots of space with which to work, we measure and create the best layout for all the luxuries you want to incorporate . If you have a very small space, we advise you on how to maximize what you've got and make a beautiful, comfortable bath.
We will help you from start to finish in creating a beautiful bath. We can help you design, introduce you to kitchen and bath designers, or work with your designer. We will help you make the hundreds of decisions you need to make in renovating a bathroom, and we will handle all the construction for you; from the plumbing to the tile, and from the lighting to the bath hardware. When we're done, everything you hoped for will be a reality.
Mfive Chicago services homes in Palatine
Trust the experts to take on your next Bathroom Remodeling project for your Palatine Palatine home.
Zip Codes in Palatine: 60038, 60055, 60067, 60074, 60078, 60094, 60095
Interested in a Free Bathroom Remodeling Consultation?
Fill out the form below and one of our team members will contact you to schedule a free consultation.
What clients are saying...
"Robert and the Mfive Chicago team showed up when they said they would, did what they said they would (and more), and at a reasonable price. But more importantly, the quality of the workmanship was excellent!!!"
Read Client Reviews
Follow us on Houzz
View our latest work and get great ideas for your home remodeling, renovation or repair job.
View Houzz Profile