Barrington, IL Kitchen Remodeling
Kitchen remodeling experts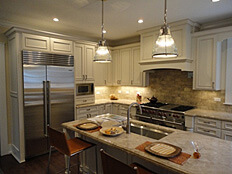 Mfive Chicago takes pride in our kitchen remodeling and renovation services.
We have helped city dwellers like you turn their ordinary kitchens into something they are proud to show off. Whatever your budget, and whatever the size of the kitchen, we will work with you to make sure that it changes into a space that will delight you.  The kitchen is one of the most common rooms for people to congregate; you should have an environment that you enjoy.
We have designed hundreds of kitchens as real estate developers and designers, and know how to optimize your space and your money.
Kitchen design is all about effectively making use of a space, yet showing it off in an elegant way. Choosing appliances and materials doesn't have to be a hassle; we can pick these out to craft your perfect environment.
Flexible Kitchen Remodeling Process
Mfive Chicago services homes in Barrington
Trust the experts to take on your next Kitchen Remodeling project for your Barrington Barrington home.
Zip Codes in Barrington: 60010, 60011
Interested in a Free Kitchen Remodeling Consultation?
Fill out the form below and one of our team members will contact you to schedule a free consultation.
What clients are saying...
"Robert and the Mfive Chicago team showed up when they said they would, did what they said they would (and more), and at a reasonable price. But more importantly, the quality of the workmanship was excellent!!!"
Read Client Reviews
Follow us on Houzz
View our latest work and get great ideas for your home remodeling, renovation or repair job.
View Houzz Profile